| Label | Information |
| --- | --- |
| Dates & times | - |
| Category | Adult Program |
| Location | Main Library |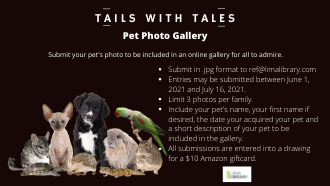 If your pet has a tale to tell then submit your pet's photo (or photo of a painting, sketch, etc.) via email to ref@limalibrary.com to be included in an online gallery display for all to see.
Submitted photo must be of your pet.
Limit 1 photo per pet and no more than 3 per family.
Please perform any photo editing prior to submission.
Include your pet's name, the owner's name as you'd like it to appear, when you acquired your pet, and a short description of your pet. Only include information that you want to appear in the online gallery.
Photos must be submitted by July 16 for inclusion in the gallery.
All entries entered for $10 Amazon gift card drawing.