Our book clubs are always open to new members. Check our events calendar for meeting dates and book titles. 
Lima Main: 
Happy Bookers: This long-standing book group reads a variety of titles including fiction and non-fiction. 

The Girl with Seven Names By: Hyeonseo Lee
Tuesday, September 20 @ 4p in Memorial Book Room
Page Turners
From the new bestsellers to old familiar favorites, we'll read and discuss a variety of genre fiction
Rotherweird by Andrew Caldecott 
Thursday, September 8 @ 1p in Room 2
Elida Branch: 
Reading Cafe Book Club
Join us on the 2nd Wednesday of each month at the Elida Branch for book discussion. 
Monthly book selections can be picked up at the Elida location or you can pick up your own copy.
Stillwater Girls By Minka Kent on Wednesday September 14 @3p
.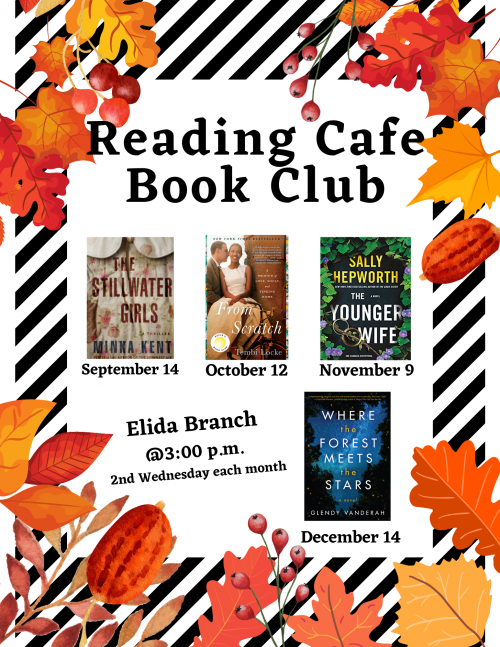 Spencerville Branch
Mystery Book Club
If you love to read books that keep you on the edge of your seat, then you won't want to miss this book club. We meet the 2nd Wednesday of each month at 10:30 a.m. in the Spencerville Branch meeting room. Coffee and tea will be served or bring your own refreshment. 
Wednesday, September 14  @ 10:30 am 
The Last Flight By: Julie Clark
(Pick up your copy at the Spencerville Library)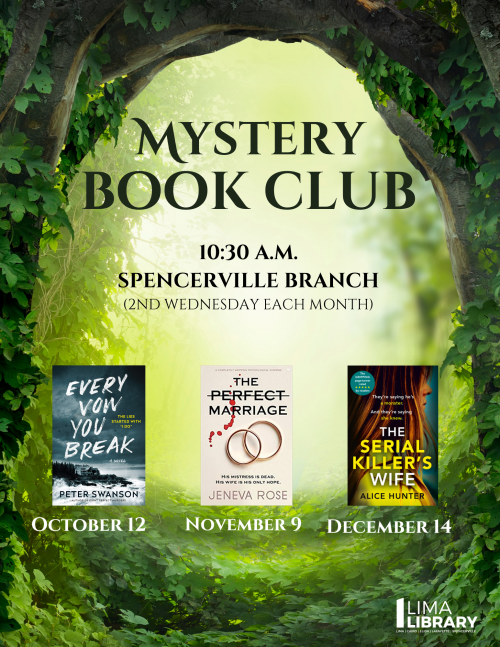 NEW! Cairo and Lafayette Branch 
Mixed Review (DIY Online Book Club)
This "DIY" book club is for anyone that loves to read! Select an Advanced Reader book from our stack of free books and review it for the Library and other book clubs. 
Each month will feature a new stack to pick from. Books include (Adult Fiction, Juvenile Fiction, Teen, Adult Nonfiction and more...) All we need is for you to read it, and bring back a review for us to share on social media and with other readers at the Library. August 1st Cairo and Lafayette Branch locations will have a stack of books ready to pick from.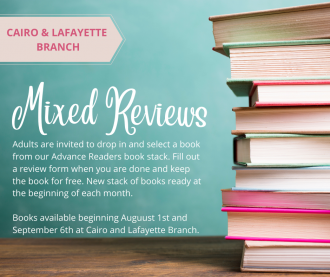 Trying to find something good for your own personal book club to read? Try one from our Book Club shelf! 
Past book club titles include: 
The Book Woman of Troublesome Creek, by Kim Richardson 
The Name of the Rose, by Umberto Eco 
The Silent Patient, by Alex Michaelides 
Someone Knows My Name, by Lawrence Hill 
Courting Mr. Lincoln, by Louis Bayard 
The Little Old Lady Who Broke All the Rules, by Catharina Ingelman-Sundberg 
Eleanor Oliphant is Completely Fine, by Gail Honeyman 
Silent Witnesses: The Often Gruesome but Always Fascinating History of Forensic Science, by Nigel McCrery 
The Nickel Boys, by Colson Whitehead 
Love Lies: A True Story of Marriage and Murder in the Suburbs, by Amanda Lamb 
The Trial of Lizzie Borden, by Cara Robertson 
A Gentleman in Moscow, by Amor Towles  
And Then There Were None, by Agatha Christie  
As Bright as Heaven, by Susan Meissner  
Being Mortal: Medicine and What Matters in the End, by Atul Gawande 
Below Stairs, by Margaret Powell  
Educated: a memoir, by Tara Westover  
Letters from Skye, by Jessica Brockmole  
Lizzie's War, by Tim Farrington  
Murder at the Brightwell, by Ashley Weaver  
Peace Like a River, by Leif Enger  
Persuasion, by Jane Austen 
The House at Riverton, by Kate Morton  
The Remains of the Day, by Kazuo Ishiguro  
The Secrets We Kept, by Krystal Sital  
The Seven and a Half Deaths of Evelyn Hardcastle, by Stuart Turton 
Their Eyes Were Watching God, by Zora Neale Hurston  
This Side of Murder, by Anna Lee Huber  
Whistling Past the Graveyard, by Susan Crandall 
Revolutionary Road, by Richard Yates 
When Books Went to War, by Molly Manning 
Hillbilly Elegy, by JD Vance 
Above Suspicion, by Joe Sharkey 
Confessions of a Master Jewel Thief, by Bill Mason 
I Am a Pencil, by Sam Swope 
Girl in the Dark, by Anna Lyndsey 
Head Case, by Cole Cohen 
At Home, by Bill Bryson 
Outcasts United, by Warren St. John 
The Boys in the Boat, by James Brown 
The Great Detective, by Zach Dundas 
Lady Almina and the Real Downton Abbey, by Fiona Carnarvon 
Run, Don't Walk, by Adele Levine 
Upstairs at the White House, by JB West 
The Stranger in the Woods, by Michael Finkel 
Killers of the Flower Moon, by David Grann 
Cleopatra, by Stacy Schiff 
After Visiting Friends, by Michael Hainey 
The Mockingbird Next Door, by Marja Mills 
Growing Up Amish, by Ira Wagler 
I Am Malala, by Malala Yousafzai 
Say You're One of Them, by Uwem Akpan 
And Only to Deceive, by Tasha Alexander 
A Man Called Ove, by Fredrick Backman 
Quicksand, by Carolyn Baugh 
The Other Einstein, by Marie Benedict 
Year of Wonder, by Geraldine Brooks 
The Good Earth, by Pearl S. Buck 
The Girl With All the Gifts, by Mike Carey 
The Fiction Class, by Susan Breen 
The Sittaford Mystery, by Agatha Christie 
The Zahir, by Paulo Coelho 
One Vacant Chair, by Joe Coomer 
The Saffron Kitchen, by Yasmin Crowther 
The Hours, by Michael Cunningham 
London is the Best City in America, by Laura Dave 
The Madonnas of Leningrad, by Debra Dean 
The Language of Flowers, by Vanessa Diffenbaugh 
The Tea Rose, by Jennifer Donnelly 
The Life We Bury, by Allen Esken 
Middlesex, by Jeffrey Eugenides 
The Universe Versus Alex Woods, by Gavin Extence 
The Yellow House, by Patricia Falvey 
Tender is the Night, by F. Scott Fitzgerald 
Crime and Poetry, by Amanda Flower 
A Plain Death, by Amanda Flower 
A Plain Disappearance, by Amanda Flower 
A Plain Scandal, by Amanda Flower 
Hotel on the Corner of Bitter and Sweet, by Jamie Ford 
The Jane Austen Book Club, by Karen Joy Fowler 
Crooked Letter, Crooked Letter, by Tom Franklin 
Freedom, by Jonathan Franzen 
The Graveyard Book, by Neil Gaiman 
Love in the Time of Cholera, by Gabriel Garcia Marquez 
North and South, by Elizabeth Gaskell 
Flora, by Gail Godwin 
The Kitchen House, by Kathleen Grissom 
Water for Elephants, by Sara Gruen 
The Curious Incident of the Dog in the Night-Time, by Mark Haddon 
Austenland, by Shannon Hale 
Midnight in Austenland, by Shannon Hale 
The Anatomist's Wife, by Anna Lee Huber 
Between, Georgia, by Joshilyn Jackson 
Gods in Alabama, by Joshilyn Jackson 
Mudbound, by Hillary Jordan 
The Unlikely Pilgrimage of Harold Fry, by Rachel Joyce 
A Separation, by Kate Kitamura 
The Good Girl, by Mary Kubica 
Last Train to Istanbul, by Ayse Kulin 
Girl in Translation, by Jean Kwok 
The Bottoms, by Joe R. Landsdale 
Go Set a Watchman, by Harper Lee 
The Giver, by Lois Lowry 
I Let You Go, by Clare Mackintosh 
Life of Pi, by Yann Martel 
The Road, by Cormac McCarthy 
The Heart is a Lonely Hunter, by Carson McCullers 
Saturday, by Ian McEwan 
Shadow Baby, by Alison McGhee 
Circling the Sun, by Paula McLain 
The Paris Wife, by Paula McLain 
A Fall of Marigolds, by Susan Meissner 
All the Bright Places, by Jennifer Niven 
The Things They Carried, by Time O'Brien 
The Dogs of Babel, by Carolyn Parkhurst 
Out of Darkness, by Ashley Hope Perez 
Gilead, by Marilynne Robinson 
Lillian Boxfish Takes a Walk, by Kathleen Rooney 
A Thread of Grace, by Mary Doria Russell 
Snow Flower and the Secret Fan, by Lisa See 
The Pecan Man, by Cassie Dandridge Selleck 
Where'd You Go, Bernadette, by Maria Semple 
The Thirteenth Tale, by Diane Setterfield 
A Tree Grows in Brooklyn, by Betty Smith 
The Light Between Oceans, by ML Stedman 
Tortilla Flat, by John Steinbeck 
The Art of Racing in the Rain, by Garth Stein 
The Story Hour, by Thrity Umrigar 
The Dirty Girls Social Club, by Alisa Valdes 
Beautiful Ruins, by Jess Walter 
The Legacy, by Katherine Webb 
Eyes On You, by Kate White 
The Wrong Man, by Kate White 
Another Brooklyn, by Jacqueline Woodson